M.A. Karafi's (MAK) PORT GHALIB - Egypt

This MAK property is approximately 18 km (11 miles) of coastline and up to several km wide (32 million square meters). Port Ghalib is a Multi- Billion dollar, master-planned, mega-development incluing a resort community featuring several residential and mixed use neighborhoods with 4 to 6,000 residential units, 14-15 resort hotels, an international marina for up to 1,000 yachts, a conference and exhibition center, golf course and other amenities. The client built, owns and operates the water, electric and telecom utilities as well as the adjacent international airport. Michael Minieri's services included Assessment and the Security Master Planning among other elements, for the entire community.

TESTIMONIAL: The client's top executive for the project - Mr. James Pringle - later said, "I will never break ground on another development without Michael Minieri involved at the very start!"
---
EMAAR'S King Abdullah Economic City (KAEC)

EMAAR'S KAEC is a 168 million square meter (65 sq. miles), $86 billion dollar, "city" development having six zones which are the seaport, industrial, educational, resorts, residential and central business district. Michael Minieri provided a full scope Security Master Plan as well as a complete package for architectural, operational and technological security. The documentation included security standards required of future parcel developers to insure that their security integrated appropriately with the "security backbone" at the core of the overall project. EMAAR is reported to be the world's largest property developer.
KAEC Website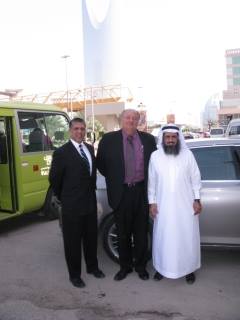 ---
ARAMCO'S King Abdullah University of Science and Technology (KAUST)

KAUST is a multi-billion dollar, 36 million square meter (14 sq. miles) "educational city" featuring a world-class graduate university along the Red Sea. The development includes a complete community with residential, retail and recreational neighborhoods. Michael Minieri provided the Assessment and Security Master Plan as well as the Security Standards for all the structure types, in addition to security systems design and engineering. KAUST's original construction was under the supervision of ARAMCO. 8 years after opening, Mr. Minieri was engaged to complete four (4) consecutive operational security projects together spanning 2.5 years including

1 full year imbedded on-site

as the "resident security consultant".
KAUST Website